Could your guest room have a vacancy sign posted outside? Guest rooms often remain empty for months of the year even as people are searching for usable space in their homes. Don't limit your guest room to guests only. It's in your house and you can use it the 48 – 50 weeks of the year when no guests are in there. Read on for tips to create a multipurpose guest room  so you can add function to your home and have a place for visitors. 
Consider what you wish you had room to do. Maybe it's a place to process mail and pay bills so that your kitchen counters aren't full of paper piles. Or, it's not so much function you need as it is a quiet place to read or meditate. You may be thinking you'd need a bigger house or to wait until kids move out before you can have a craft space, but using the guest room for more than guests could be your solution.
How often you have guests and how long they stay can help you decide what to do with your room. For instance, if you have visitors one week out of of every month, you might not want to make the guest room double as your office space because losing access to it that frequently would be a serious inconvenience.  However, if you simply need space to store your office supplies and files, the guest room could serve as storage space when you have visitors and work space when no guests are in residence.
Other Uses for Your Guest Room
So, how can your guest room multi-task? Let us count the ways.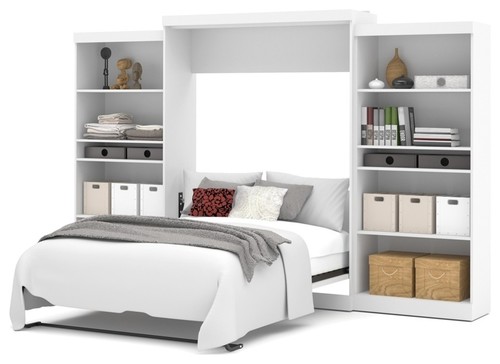 Homework Space
Craft or Sewing Room
Art Studio
Hobby Room
Exercise Room/Yoga Space
Meditation Room
Library
Reading Room
Dressing Room
Media Room
Retreat
Music Room
Art or Photo Gallery
Game Room or Puzzle Place
Guest Closet Multi-Purposed
You may not need to use the entire guest room for something else. Your guest closet can add much needed function or storage and still store guests' clothes. Leave some hanging space for guests to use .  Instead of a dresser, a canvas hanging bin serves as storage for folded clothes. Now the closet can transform.
Office closet with desk, drawers, and files
Gifts and gift wrapping station
Linen closet
Second master closet
Toy closet or storage for toy rotation bins.
Seasonal storage for off-season clothes.
Clothes to grow into or pass on
Child's hideout, reading nook, playroom, or fort
Sleeping space
Sewing or craft closet
Contact Me
Sometimes, just figuring out that you want to do something is all the information you to take a project from start to finish. Others, you need a little help taking vision to reality. If you'd like some help setting up a multipurpose guest room or simply looking at your home to think about how to use your space differently, I can help. You can contact me via email or by phone at 512-591-8129.